I was just looking around while I was taking a break from the poker tables and waiting on the slot machines to come back with good patterns again before loosing and notice something that I wanted to share it on a post. Is about having the option to add friends to our profile I know it may be lame to a lot of people but that's how enhancements and features like the one we have now are made on the forum and on everyday living like today's technology improvements; from feedback's.
If we had an option to add friends we don't need to remember there names or hash and I'll be easier to PM or send them messages. Using the present methods I make a list of people I like on a draft and use that to send message to them.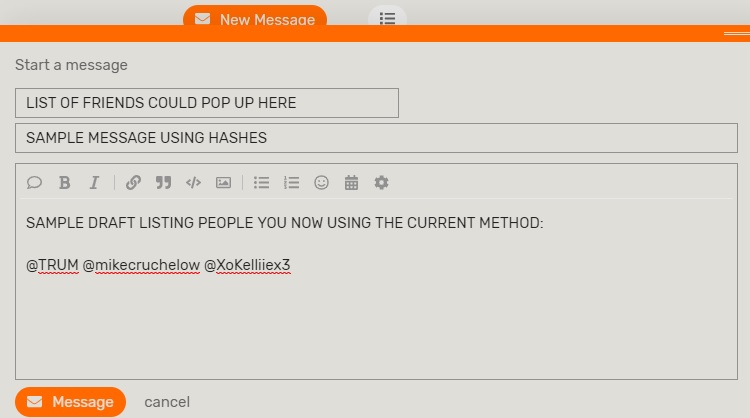 Right now we could hash someone we know like @MAT or @William and that's find there the guru's of the forum and we know there hash but I think if we have a feature that we can add friends we just pick it from the ADD USER LIST it will be nice. I don't know if you like the idea but I like to contribute ideas to see if there reviewed for future enhancement like on other posts and while taking breaks from playing. Maybe Im the only one that sees this need but back in the days when I had my own forum we created features like this and this forum is on another level; so Im throwing another idea to the team for review or move it to #sitefeedback for review like the other feedback's I shared. Can I get at least a CASH BONUS FOR THIS?