I was betting $10 a spin on reels & wheels xl and got all 3 bonus wheel symbols but the when didn't open.
After being accused of sending edited images I was told the reason the wheel didn't open was because there was a display error and I didn't actually get all 3 symbols I only got 2 they said… CS sent me a screenshot of the "actual" outcome with only 2 bonus symbols, but in the picture they sent one of the bonus symbols is in the last column…
The bonus symbol never shows up in the last column only "wheel" & "free spins" symbols are shown in the last column. The image they sent isn't mirrored either because the rest of the symbols line up.
I've redacted my balance and any other private info in hopes that this thread remains public.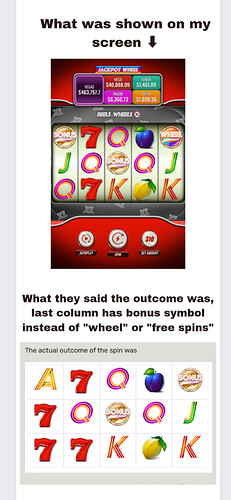 I've cropped the name of the mod that sent it because they were only relaying what was said in chat