Typical poor coding garbage.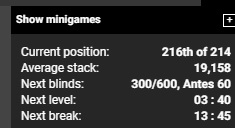 No, I'm not going to tell you the time, game # or anything else.
I've got a post going trying to get everyone who's dealing with these issued to kinda group up and voice that it's more than an isolated incident and yada yada

freeze/lag/disconnect…am i alone?! can someone tell me am i crazy for my feelings on this
is the name of the chat if you want to get in moderators are at least answering people pretty quickly through it.
@Anmiac3796 What you're stating wouldn't really apply here as this is a clear lobby error. It is something we're aware of and have escalated to the poker team already in the past.
Exactly my point, and you STILL can't get it fixed.
I believe one of the issues with this is while it is a bug, ultimately it doesn't really affect any actual play or payouts. There are other things the Poker Team is addressing on a routine basis and so this may have fallen to the wayside, we'll re-escalate this on our end now. However, without you being willing to provide any other details it is likely that the Poker Team is going to ask which tournament this was for.
It doesn't make any difference which tournament it was. It behaves the same any time you re-buy, as you well know.
Whether or not payout is affected is irrelevant. You should want to clean up your software. And it DOES affect play. It makes it impossible to quickly and easily see where you stand.
At no point did I state that we don't plan to fix this, and I don't disagree that it's taken to long. Again this has been re-escalated. I do believe you can still in the meantime see your correct standing in the actual player standing part of the Lobby where the current chipstacks are shown.
Do you maintain a spreadsheet of open issues? I would be interested to see l the timelines and progress of all them. Transparency is very rare for poker sites. It would be nice to see if these complaints have any real effect. Quite frankly, this seems like a waste of time ours and yours.
I'm afraid we do not, we send a ticket to the relevant department and we receive updates from them periodically, or should they request any additional information etc.
That's not a very good business practice. Tracking outstanding issues and following their progress is critical to any problem solving. Any business with a service orientation should be doing this at a minimum. It's no wonder not much is getting done to improve. You simply don't know where you're at through the process.
This isn't correct. Our tickets are reviewed and updated to us as well as tracked. We do know where we are in the process. You had asked for an actual spreadsheet which isn't something required. We essentially have an online tracking system as opposed to manual spreadsheets.
If asking to see these it isn't something we can likely provide though, and honestly the updates are provided by us as they come in so there wouldn't be much more data on them then we've provided on our end already.
This doesn't sound very organized at all. I would never expect to see any internal documents
because it would expose the truth. These issue have existed for a long time. They've gone unsolved and that's precisely why people lodge complaints both here and on TwoPlusTwo
on a daily basis. As I've said previously, many players think your software is UNPLAYABLE.
Even the simplest things can't get done.
How easy would it be to allow toggling between chips and BBs. Very easy, yet no one cares enought to get the most basic thing done.
Ridiculous.
Most every other poker site made this available to players long ago. Is there any plausible explanation why this hasn't been done yet at Ignition?
Just as a note here we have now got word back and the Poker Team does officially have this on the road map to be fixed. They are aiming to have this resolved within the next few weeks and we'll advise you when it is completed. Thanks for re submitting this.
Which one Foster?
Screwed up ranking or BB display?
The rankings issue. The Blinds display isn't really a bug but more of a requested feature. It is something that the Poker Team is aware of and may eventually implement, but there's currently no specific timeline to have this added.
No, the BB is definitely not a "bug".
It's kinda like not having a rear view mirror in a car. It will still run, but it sucks without it…and all the other cars have one.