There are dozens of players that register in the final minute of these monster stacks and lucky 7s/8s tournaments that are ruining the playing experience for alot of players. Because these tournaments pay out 20+% of the field and late reg lasts for 2-3hours, you can register last minute and practically guarantee to get in the money. They'll hop in at the last second and use their entire 30+90 second time banks and most of these guys cash the tournament! Look at this screenshot: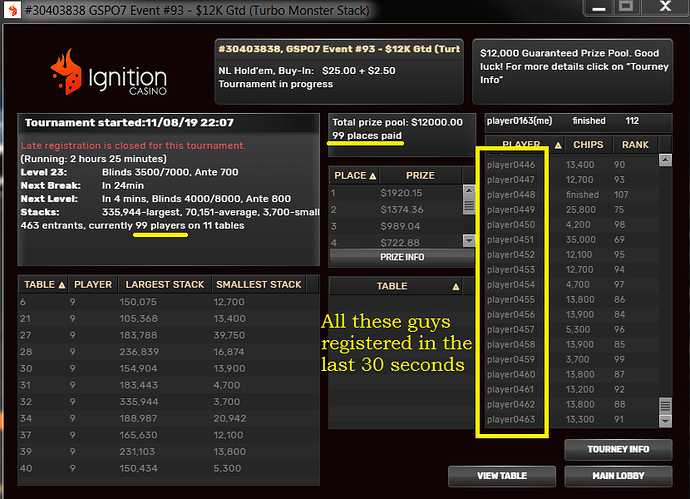 Look at those stacks! With these stack sizes at the current blind levels, most of these guys tank folded 2-3 hands, paid 2-3 antes and cashed! Ridiculous!!!
There is so much tanking going on that often times you only 2-3 hands per level near bubble time. Someone could play from the beginning of the tourney, battling for chips, build a decent 20-25bb stack and have it all disappear into an unplayable sub 10bb stack near the bubble because of all the short stacks tanking. Its miserable sitting there wanting to play poker while watching all this tanking going on that is completely screwing the structure into a huge crapshoot. And they're being rewarded for doing so.
And with how slow the software shuffles players between tables and seats new players, sometimes these last minute registrants all get seated at the same table and can essentially collude, tank fold every hand to get ITM.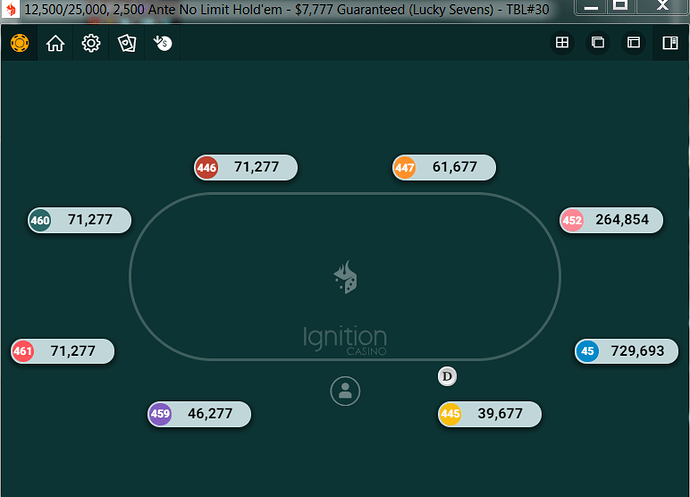 I think its a terrible idea to let people register with 2.5bb 20 spots away from the money, and I guarantee you there are tons of people who feel the same way but are to lazy to spent 20 minutes to draft a post like this, or even know where to go to voice their concern
Edit-- technically people register with 3bb, 15k stack at bb5000 in the monster stack and 77,777 at bb25000 for the lucky 7s, but since its at the last second of that level they're basically registering at bb6000 or bb30000