I clicked on the link and I've done that multiple times before
I'll look into this tournament and send you a PM when I have an update.
Yesterday during the million $ Sunday I played 4 MTTs. Everything was working smoothly until the $150+12 $175,000 GTD tournament (#32823573) kicked me out and then wouldn't let me re enter the tournament. All other tables loaded fine and worked well. I restarted client multiple times and continually closed and opened the tournament lobby. I know others had this issue as they posted on 2+2 and twitter. I emailed support with no response. Please let me know if this is an issue I need to fix and how to get a refund for the tournament. Thanks!!
image|320x240
@jt3013, Welcome to the Forum. We've moved your post here as it relates to this thread. Please read above and let us know if you have any further questions.
We've also PM'ed you regarding the tournament.
Hi @moderators,
I was playing in the $162 $175k guaranteed Sunday tournament this Sunday in addition to a few other tournaments. While playing, my tables closed down without me taking any action. Upon re-opening the tournaments in which I was registered, I was able to continue playing at all of them except for the $162 $175k guaranteed tournament. I attempted to click "Take My Seat" which I would normally do in this scenario, but only for this tournament that option was grayed out. I logged out and back in many times, restarted the computer, and uninstalled/reinstalled the software, but was unable to ever take my seat in the tournament.
There are members of the 2p2 forum who have also reported the same issue in the same tournament here: https://forumserver.twoplustwo.com/28/internet-poker/unofficial-bodog-bovada-ignition-thread-1142716/index2375.html.
I have posted my own screenshot below so you can better understand the issue. What options are available when the software malfunctions like this?
Screenshot: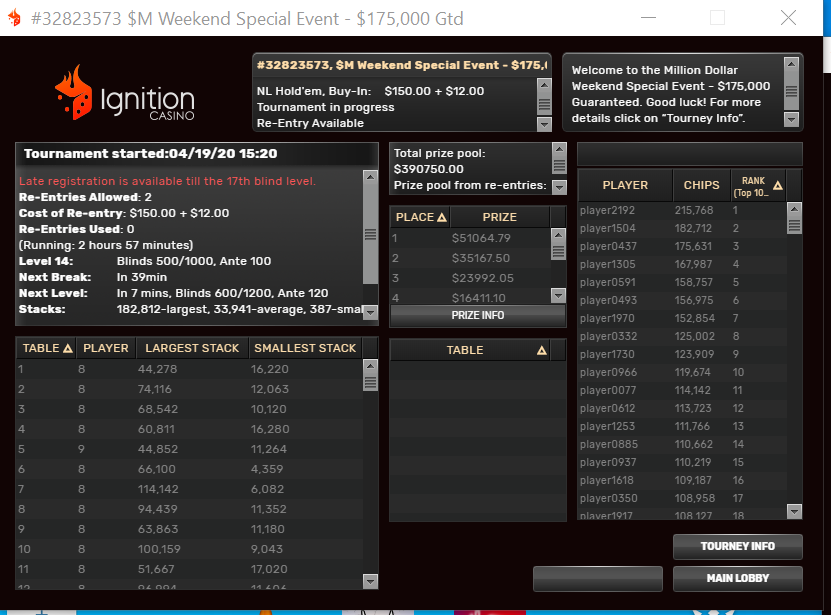 Thank you,
Ignition Poker Player
@titansfan396 I'm sorry to hear about your issue and will look into the tournament further.
If encountering any issues, some great troubleshooting steps were outlined here
Matt has solved this issue thank you!
I have received the following where 'Take a Seat' button is blank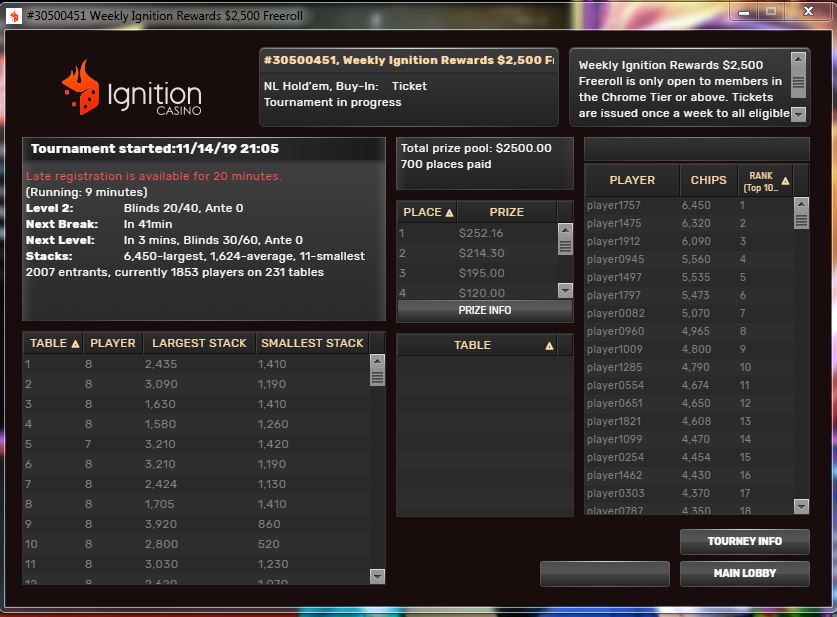 I have performed the following suggestions (including install Ignition Casino is separate directory) mention in previous post. feedback.
I believe the issue occurs when your chip stack rank is above $1000. Your MTT rank is not displayed in this scenario. This scenario has occurred in two separate MTTs.
@firerain We appreciate the screenshot and information
I also have this issue. I was just robbed of my registration fee in two tournament. It seems to be a scam for it to keep taking money when clearly I'm not in the game.
@Kennyboo, we can assure you that we aren't attempting to scam any players and will take a look to see if you were disconnected. We'll be messaging you shortly.
Hey everyone,
Thank you for taking the time to report this issue. Our Poker team is working on an update to resolve this so, for now, we're moving this topic to 'Site Feedback - In Backlog' and once we get more information available, we will let you know here.
yeah…It has done this every week accept for once…what a perk
@Jerm12 Have you been able to register for tonight?
Its interesting but I have problems only with freeroll. https://clip2net.com/s/47KA6q3
Hey guys,
Thank you all for your patience and for helping us resolve this.
The most recent update that was enrolled on our Poker Software has now fully resolved the issue and the 'Take My Seat / Register' button should no longer disappear.
Had this happen in two jackpot sng over the last week. A $7 and a $2. Both were registered for using tickets. All tables crashed, after logging back in I could set tables in my tournaments but the client would not seat me desire to repeated attempts to log in/log out, clear cache and cookies, close/reopen browser.
Would like the $9 in tickets back.
Hey @RoyalFlush, did you attempt any of the troubleshooting steps that were recommended above, and were you able to get back in?
I'll take a look at your account and tournaments now and will reach out via PM shortly.