OK SO i share what I can to help me and help others maybe you know this but I think it should be better organized so far Im keeping my own notes to keep everything in peace for me.
IF YOU or I claim a bonus without taking notes you need to reach support and try to see if they can help you but since Im technology oriented I like to see logs or history of the stuff I claim and @moderators have show me how to access some features but there's some updates that should be review like others that are now in place and working beutifully.
If you go to the transaction area on the website you will see some details but you will find missing detalis like the expiration details or the bonus type your claim. Some bonus do show detals but the poker tournaments are not showing what I need but exploring IGNITION I did notice that the POKER SOFTWARE had the additional details I needed and this should be review and implemented on the main website for now Im taking my notes and hoping this gets better.
HERE'S SOME SAMPLE:
On the website we see some information but we are missing other details: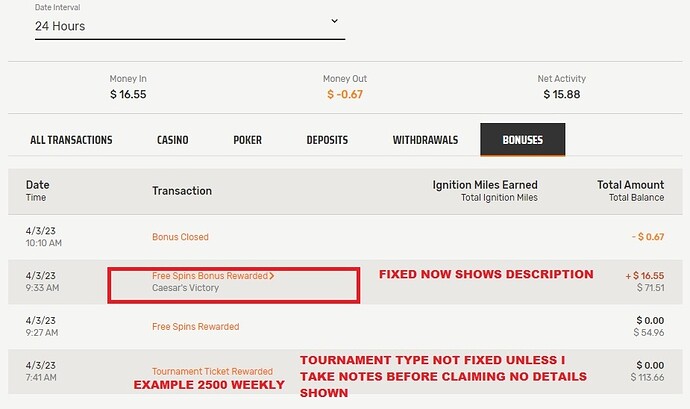 SAME HERE when claiming reward points: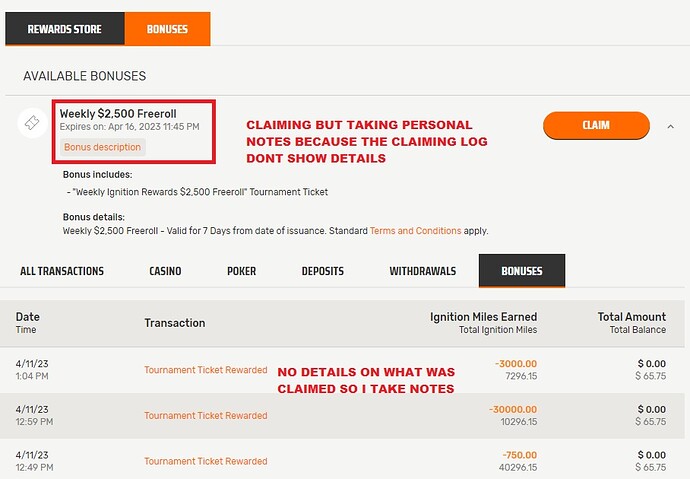 NOW when going or using the poker software we get a little bit more info still consing but helpful: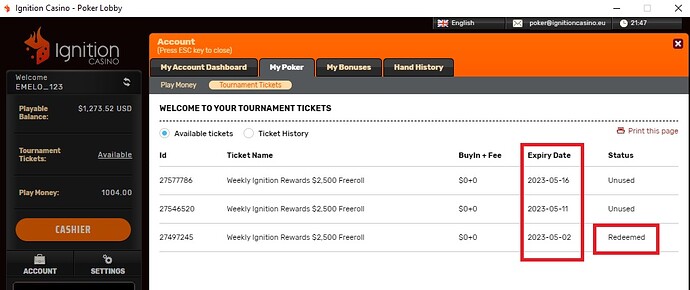 So there you go I do got other feedbacks but this will be the one related to poker. GIFT WELCOME and good luck hoping to get the next DROPJACKPOT. Here's my notes SEE U AT THE TABLES:
-CLAIMED NOT REGISTERED
-WEEKLY 2500 EXPIRES 5/11/23
-WEEKLY 2500 EXPIRES 5/16/23
-WATING ON REGISTRATION:
-BITCOIN FREEROLL (WAITING 5/7/23 2PM)
-SOCIAL POKER PASSWORD=SOCIAL? (WAITING 5/9/23 8PM)
REGISTERED:
-WEEKLY 2500 EXPIRES (REGISTERED 5/4/23 9PM)
THANK FULL for the prizes I receive and happy to be back.