awards schedule is wrong-----
@scotty_h Can we get an example or screenshot of the discrepancy and we'll be happy to have it looked into.
do not know how to screenshot ====== tourney pays 243-----awards shows 81 ===1204 entries
AWARDS SCHEDULE
Place Award
1 $194.02
2 $140.63
3 $103.14
4 $75.25
5 $54.92
6 $40.07
7 $29.23
8
@scotty_h Yes that tournament is already in the money as it pays out to the top 20%
@scotty_h
If you are using Windows 10 then you should have the program "Snip & Sketch" that makes it easy to take screenshots.
Welcome to the forum @scheski and thank you for the screenshot provided. We'll make sure to pass this on to our Poker team.
Here's another example from April 16. This screenshot was taken after registration closed. I finished 81st and won $25.46 but the incorrect list shows $21.20 for 81st so the payoff calculation must be right even though the list is wrong.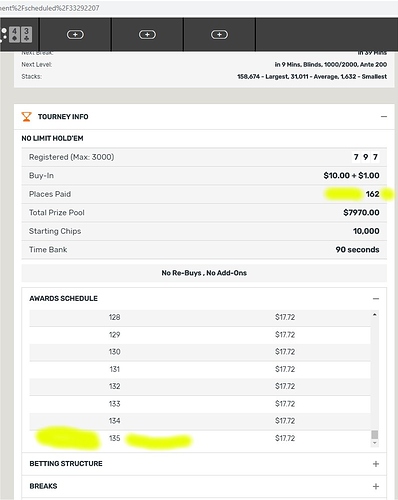 Thank you for that screenshot as well @scheski. We've sent this to our Poker team to investigate and we'll circle back here when we have more information.
The reason this happens some of the information at the top of the page (player counts, places paid, etc) update in real-time, but the payouts do not update. You need to refresh/reload the page in order for the payouts to update.
That said, it would be great if the payouts would auto update like the rest of the info on the page.
Hey guys, our Poker team has notified us that they will be working on an update that will fix the delay in the display of the Awards Schedule.
We are moving this to 'Site Feedback - In Backlog' and we will let you know once there's an update!