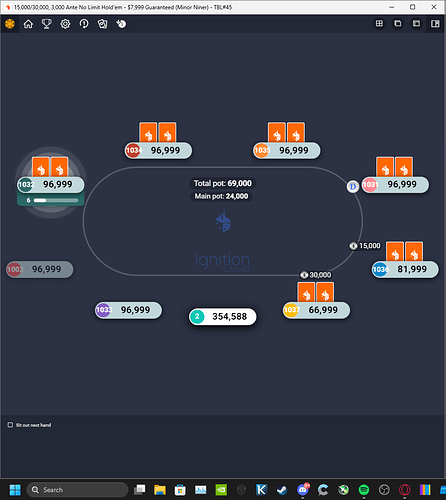 I have attached an image documenting the table. The tournament name and table number are at the top of the image along the white bar.
i randomly got moved to this table after previously being at a normal one.
They all joined the tournament the tournament at the last possible second (clearly), and will use every single second of their timebanks. At the 1 second mark, they will either go all in (if they have a high pocket pair) or just fold. Every single time one of the bots has gone all in, they have either had pocket Aces or Jacks, without fail (assuming 10s and higher is the threshold.)
Every single "player" (beside myself) stuck to this routine.
Just to be clear, I am not making this post to disparage Ignition Casino in any way, It is just something that needs to be taken care of. It is not fair to the real players and not fair to the casino. Instances like this will drive the player pool away without question.
Last thing, most of their player numbers are in ascending numerical order, further proving my claim.