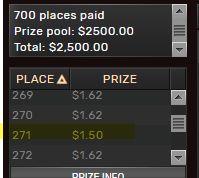 See the highlighted.
Just dont get 271st. Seems pretty simple. You know, nothing wrong with the poker side at all. Im sure it's on your end. Did you try clearing your cache and cookies to make the payouts appear correct?
Sorry for the delay @freaksforum, we have escalated this. Please let us know if it happens again.