Close to $1000.00 later and I didn't see one jackpot reel. SMH
What you mean like in play? Or deposits?
I Watched the hourly jackpot clock count down all the way to 0:00 while every spin Was a loss, no jackpot was awarded it just stoped at 0:00 and after refreshing the jackpot amount reset and clock back to 1hr. Broken just like everything else with this site. I'm just about done with this casino. No point in even sending a complaint, not like they will do anything about it.
We assure you these were given out. We will be looking into providing something to show this eventually, but these jackpots are awarded.
Please ensure posts are actually relevant to the thread.
Do you see how that can be a bit deceiving? If you see that a jackpot it close to its limit and will hit soon you may decide to play like I did thinking it will soon hit but In reality it's already been awarded?
It's supposed to be updated live and notify when the jackpot hits according to the description. So why would I think any different? I would not have played knowing this wasn't the case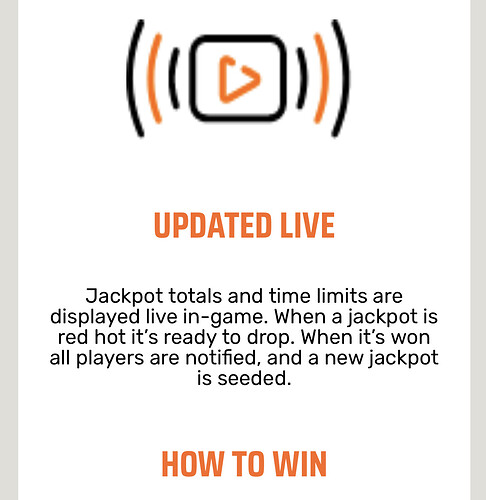 I never said they were not, the issue is they don't notify players when a jackpot is hit like it's advertised too
It did not show up, this is the first I have seen that symbol. Yesterday, while playing, the clock just continued to count all the way to zero. Never showed that the jackpot had been won.
Jackpot hot drops do not work as advertised, I have detailed this on another thread. Does not notify you when a jackpot is hit and you are lead to believe it's still Available. I played and watched the hourly countdown all the way to zero, I played during the last 5 minutes to increase my chances of hitting.
It would show on the page. When the hourly is hit, you would see it locked and then state 'available in x amount of time'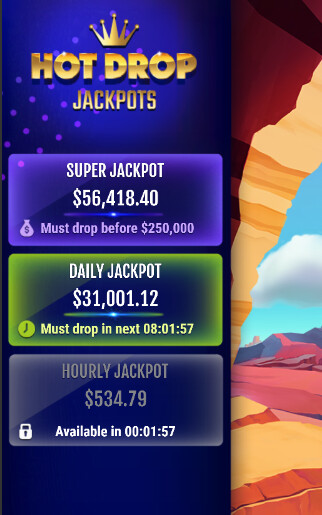 If it hasn't been won yet, it would be displayed as 'must drop in next x amount of time'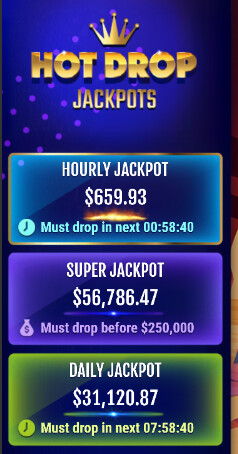 what it's is "supposed" to be doing and what it is doing is different. It's advertised as "live in game updates". This is false. It states that players are notified when it hits, again false. Yes the clock count down works but what does that matter if the jackpot has been hit. In game my clock count ran to zero and stayed the Jack pot would hit by the time limit, but it never did. Or if it did it never notified players lake advertised too. Do you see how that's a problem?
When I started a chat with customer service they didn't seem to understand my problem. They wouldn't offer any kind of compensation and because "they are not offering compensation right now" it's like this issue is grouped in with your other ddos. Obviously this is a separate issue.
The same thing happened to me last night a few times and I was wondering the same thing why were we not notified that it was hit
The screenshot you captured from when the game was open or the main page? Because the screenshot I captured above was from inside the game when playing which shows the little lock symbol because its been won
That screen shot was not from In the game but I can certainly play back my video of that session and find it, but you have multiple people saying the same thing so is that really necessary? I know I'm not the only person that has brought this up.