why are your slot games malfunctioning every few spins? both on mobile and computer. get it together ignition, cmon
i was so loyal to this site but it's really becoming beyond a disappointing dumpster fire
Apologies for the delayed response, is this happening to anyone else? Can we perhaps get the devices you're getting this error message on? On our end testing the games appear to be working for us. We've also had no widespread reports of any games or drop in gameplay that we see.
last time i reported something like this on an individual level, it only took about 12 hours before Ignition representatives posted a site-wide message apologizing (AGAIN) for the issues - I get the feeling it'll only be a matter of time for that to happen. there's at least one other person (on the forum) experiencing it…so it's not a "my issue" thing - it's an "ignition issue" thing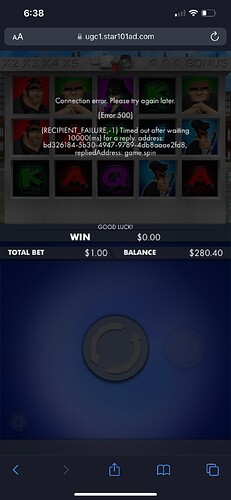 do you want more screenshots from both pc and mobile…bc I got em a plenty
@Foster
Site is never going to cop up to the programming being poor. Other sites that arent sister sites offer same slots, absolutely no issues, no timeouts, no "incorrect graphical glitches", anything like that ever reported in their forums.
it's clearly particular games with the similar/same software provider (if you look at the screenshots) - so whomever ignition partners with for those - you all need to get them in line
While it's possible that this is an issue, note that 2 players reporting something isn't necessarily proof that this is not an isolated issue. And the player above didn't report what issue they're having. @Xman_123 Are you getting the same error messages? It has been almost 2 hours since you posted and if this issue was widespread there would likely be more players experiencing this and a clear report as well as drop in our activity.
Again the screenshots are appreciated but more information is helpful such as:
Browser(s) used:
Operating System (OS):
Internet Service Provider (ISP):
Device being used:
Have you done the following:
• Clear cache and cookies:
• Try another browser:
• Used Google Chrome in Incognito Mode
These can then be used to escalate to our technical team.
and thank and compensate the players who bring it to your attention - that's how things should be done
@SoloAsylum Are you getting these same 500 errors on any of your slot games?
dude, foster, cmon man, youve been around long enough to not have to regurgitate the same "ignition rote responses" - it's not our caches man, and you know this
and just to clarify - of course - that's the first thing that was done
Error message for me too. Happens a lot after a good amount of wins then boom. Never win another dollar until my account becomes 0. I'm such an idiot…happens every time and I keep playing. About to call it quits for good with ignition
@Foster it's not all the games - like reels is fine. its the games from the bounty hunter/riches in the rough series/manufactures